For healthcare organizations, the ability to provide quality care is supported by the revenue it generates. And while the US health system features some of the finest clinicians, treatments, and facilities in the world, it also relies on the most complex reimbursement process.  Tremendous amounts of data (clinical, administrative, and billing) must be reviewed and converted into claims for reimbursement in a timely manner, and any inaccuracies or inefficiencies in that process will adversely impact financial performance.
A key element of any healthcare revenue cycle is charge capture. Charge capture refers to the documentation, posting, and reconciliation of all charges for services rendered during a patient encounter. This includes laboratory or diagnostic orders, therapies, diagnostic services, pharmacy, and all aspects of patient care delivery such as procedures. The process of charge capture occurs in the middle of the organization's clinical and financial systems, which means the data is input across multiple disparate systems from a variety of roles.
In addition to supporting accurate billing, charge capture data is crucial for other reasons. Many forms of performance reporting on care quality from the Centers for Medicare & Medicaid Services (CMS) leverage charge data from providers. Healthgrades, a leading repository for online information about healthcare facilities and physicians, also includes charge data in its ranking formulas.
Virtually all healthcare providers have some form of electronic health record or EHR. Among them, Epic is the market-leading option, with nearly 33% of hospitals in the US using it. Epic is a powerful platform with myriad features supporting the necessary clinical, revenue cycle, and administrative processes, which positions it to be a game changer for facilities prepared to fully harness its tools and capabilities.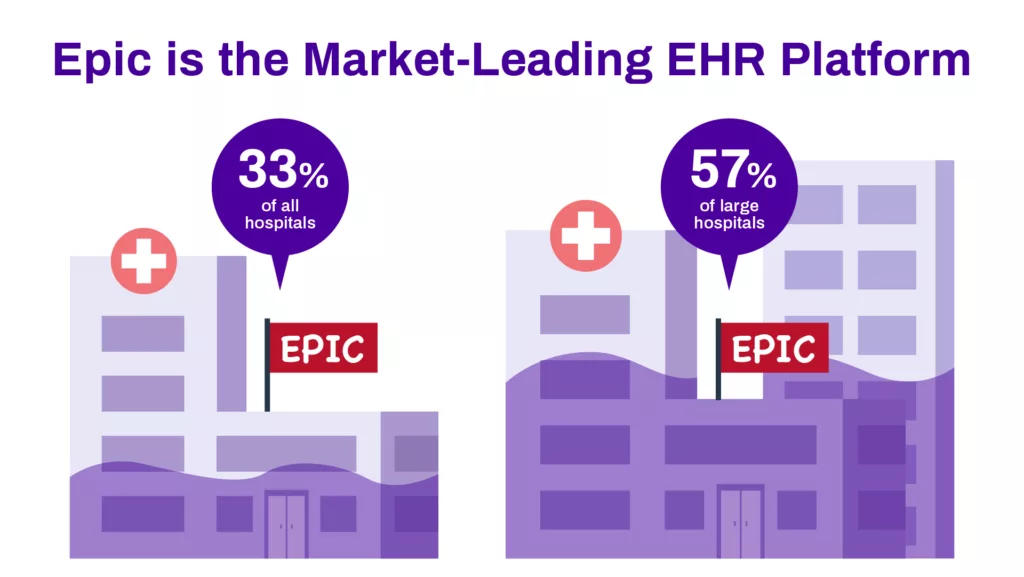 Epic Charge Capture Methods
Given the importance of charge capture in healthcare and the prominence of Epic in the market, optimizing charge capture in Epic is a mission-critical task for many organizations to ensure they're fully paid for their services.
In general, there are three primary ways in which charges can be captured using Epic and documented with the system for use in claims and quality reporting.
Charge is applied automatically through the use of a 'trigger,' usually when certain data is present, a setting is selected or a specific order/procedure is documented within the record
Charge is manually applied by use of a pulldown option when documenting a patient encounter
Charge is manually applied after the encounter via HIM/Coding staff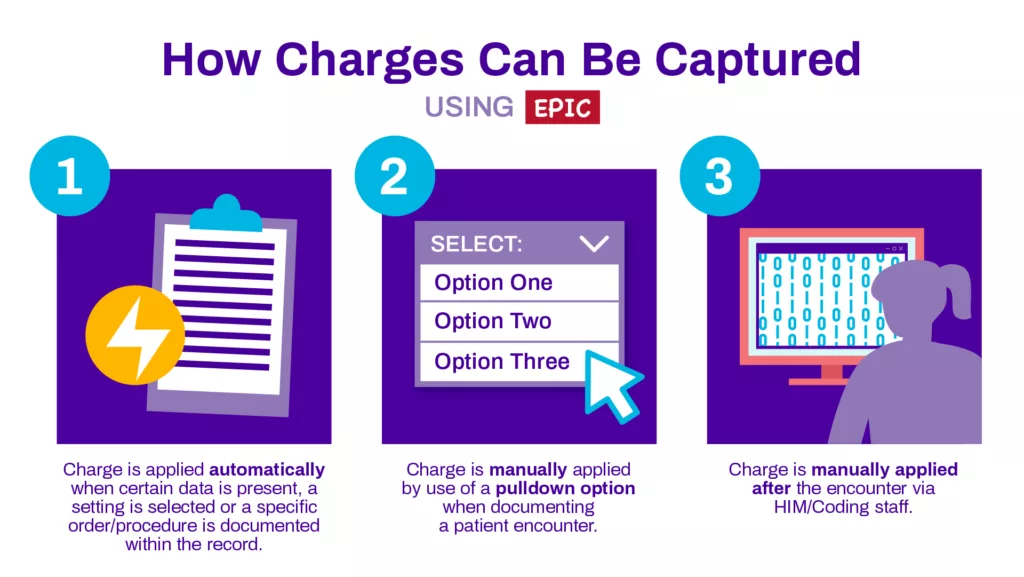 Charges Applied Automatically
In the first instance above, a charge is automatically applied after a trigger event occurs with the Epic record documenting the patient encounter. In Epic, you can establish your settings so that whenever a certain data element is included in the documentation, a setting is confirmed, an order/procedure is placed or the record is completed/closed, then the appropriate charge(s) is included.  This functionality is established by creating specific workflows within Epic that flag the trigger elements (data, setting or work order) and when detected, an auto workflow is initiated that captures the related charge(s).  This is best used for scenarios with simple requirements, such as only one variation of the charge is available, it's always applicable in the "triggered" scenario and no further staff interaction is needed.
For automation of order- and procedure-based charge capture, the system is set up so that whenever the clinician documents a request for a specific order, such as a full-panel blood test, or a procedure, such as a diagnostic MRI scan, the supporting charges are automatically applied to the patient documentation. This type of automation is often referred to as Orderable/Procedure/Chargeable (OPC) linking. Including this functionality is a key and important part of establishing Epic for use at an organization to create these custom workflows, but it will also require periodic review and updating.
Automated charge capture also works well for situations where multiple charges are always associated with one another, so you can simply bundle them together in one workflow. This is commonly used with medical equipment or devices that have an associated service. Since you can't use the device/equipment without the service (or perform the service without the device/equipment), the two will be bundled together and the charges for both are triggered automatically.
Reconcile 100% of charges daily and correct issues before submitting claims.
By ensuring optimized charge capture across all encounters, RevID prevents millions in revenue leakage while freeing up your staff to focus on more important tasks. Check out RevID below!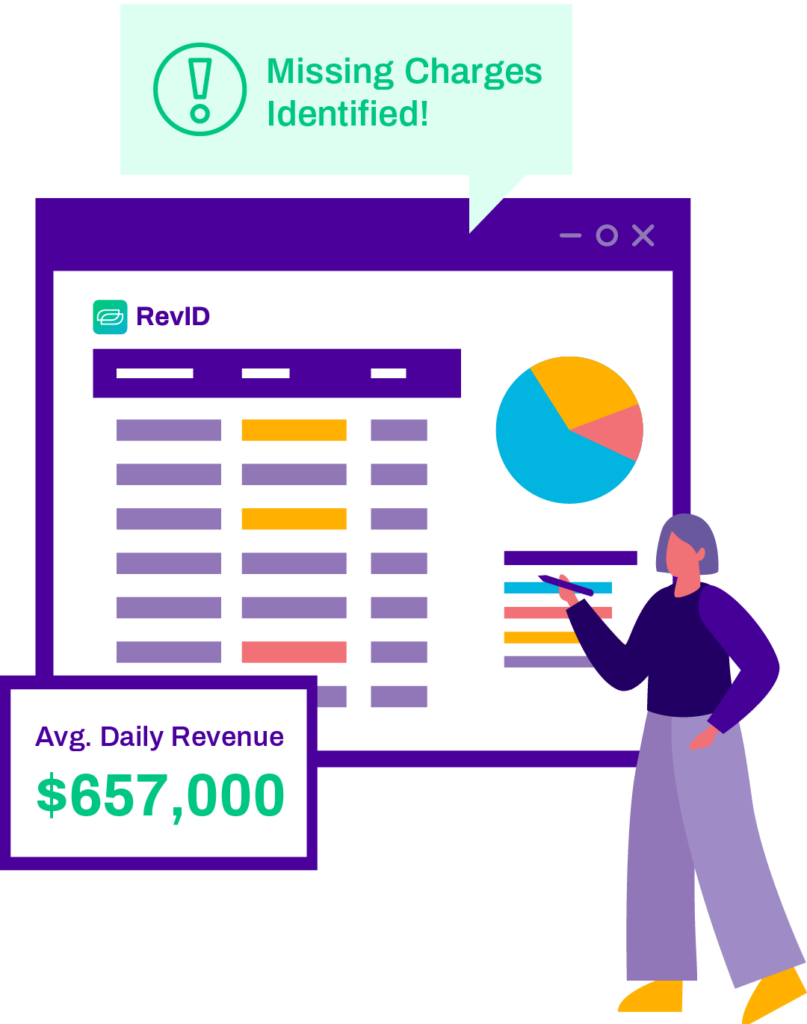 Charges Applied Manually During Encounter
For charges with a little more complexity, Epic includes functionality to help easily select them during documentation of the patient encounter. In these instances, there may be additional input from the clinician to specify what charge applies, with a range of potential charges included as a dropdown for use in selecting the specific option.  Additional functionality, such as a secondary pop-up for select options, may be added to this to ensure the accuracy and completeness of needed charges.
One challenge with the above method is the reliance on manual effort. It requires the user to complete the process before the charge is captured. If the user doesn't complete it (for instance, doesn't know which option in the dropdown to select, or if the selection itself isn't a 'required' field), then the charge will potentially go uncaptured, resulting in lost revenue.
Charge Assigned via HIM/Coding After Encounter
For any of the charges not captured or added during the patient encounter, there's still a window to add them during coding.  Coding is the process of translating the clinical, administrative, and billing data from the encounter into a medical claim to be submitted for reimbursement. This requires a certified medical coding professional and involves translating these data points into distinct alphanumeric codes including CPT codes, HCPCS codes and ICD codes that payers use to assess the care delivered and justify paying the claim.
While having charges added during the patient encounter is optimal, some charges are better suited to be manually added during coding. For instance, some CPT codes require context to be applicable to the encounter which requires human judgment to review the documentation for the necessary details that provide the specificity needed for accurate charge selection.
There's one drawback to adding charges during coding. As this occurs after the patient encounter, sometimes days after the patient has been discharged, if the coding professional has any questions about the encounter that needs clarification, they have to reach out to the supporting clinicians for assistance—which is known as a Physician Query. Given the time that has passed since the encounter in question and the clinician's need to focus on their current patients, it can be challenging to get answers in a timely manner. And in the interim, the facility can't submit the bill for payment until the issue is resolved. The alternative option is to choose to forgo the associated charge and the lost revenue that it potentially represents just to get the bill submitted.
Technology to Assist with Charge Capture
Epic is a robust platform with many features that, if leveraged accurately, can deliver helpful functionality. Conversion to the Epic EHR requires a substantial amount of planning, during which some of the earlier referenced workflows can be included. However, in addition to Epic's inherent functionality, there are other tools that offer automation to assist with the charge capture processes. These tools can also assist with charge reconciliation, which is the process of reviewing clinical and billing data to assess if the current charges listed are accurate and complete.
Epic Revenue Guardian
Revenue Guardian is an Epic module first offered in 2012. Originally designed as a bolt-on solution, Revenue Guardian is now included for Epic users who have licenses for the Resolute Hospital Billing, EpicCare Ambulatory or EpicCare Inpatient components. The basis of Revenue Guardian is that it uses rules, entitled 'edits', to scan the system for data that matches certain predefined prerequisites and/or dependencies. Using these rules, it can review data in the Epic clinical and billing systems for potential missed charges.
As Revenue Guardian is rule-driven, its functionality relies on the accuracy and thoroughness of the rules. The initial module does not include any rules, but rules can be added through two primary methods. Providers can license bundles of rules from third-party firms that specialize in supporting Revenue Guardian.  Alternatively, they can build and support their own rules via a toolkit. Designing these rules requires a substantial amount of specific knowledge. First & foremost, the developer must be familiar with the workings of the Epic EHR, including the clinical and billing aspects of the platform.  Secondly, they must be well versed in revenue cycle and charge capture processes at the organization, including the systems involved.
Using this knowledge as a foundation, the designated developer can create and implement rules that assist with aggregating charge capture across encounters and assessing for accuracy and thoroughness.  As new information becomes available, such as regulatory changes and details from updated payer contracts, the rule keeper would be responsible for reviewing existing rules for updates and/or developing new rules accordingly.
There are some limitations to Revenue Guardian, such as it can only review hospital accounts/charges (no professional billing charges). It can check for the presence of a charge, but cannot validate anything related to the associated quantities. It cannot check for a service date for charges, nor can it identify the department responsible for charges.
As a module included for free with many paid Epic licenses, Revenue Guardian is an intriguing option for managing charge accuracy. While it requires an ongoing dedicated internal resource to establish and maintain rules, it also gives the organization flexibility in customizing a process to ensure accurate charge capture.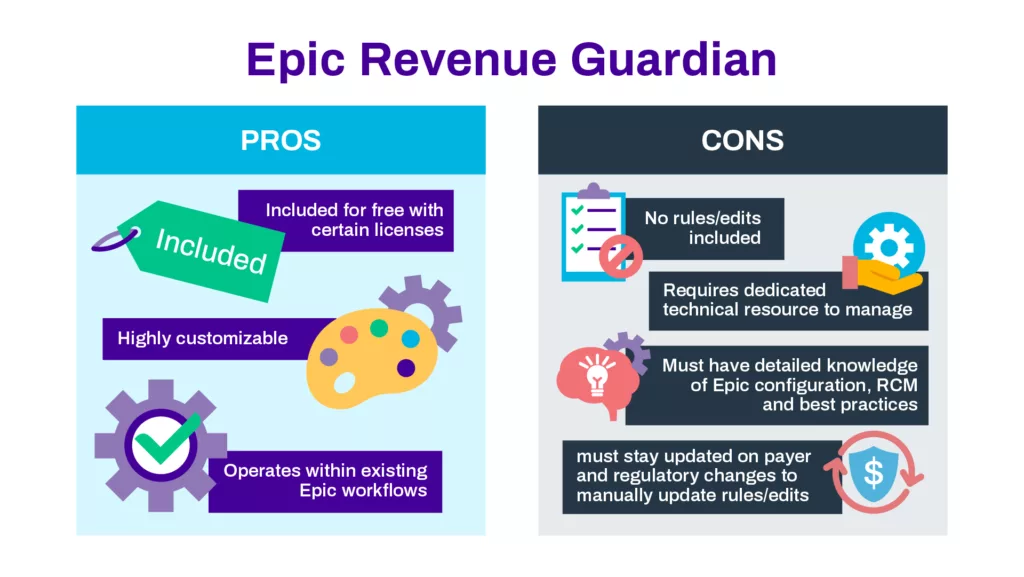 Third-Party Charge Reconciliation Tools
Like most EHRs, organizations can augment their use of Epic with technology from third-party vendors that interface with Epic to deliver specialized functionality. Given the importance of charge capture, tools are available that enable Epic users to automate the process of aggregating, analyzing, and correcting charge issues daily. These tools can help reduce the manual effort required to validate charges, while also providing high-level reporting to monitor trends and identify problem areas.
More robust third-party tools will pull in data from multiple disparate systems across inpatient, outpatient and professional service lines. This expanded view can help larger organizations review revenue performance across the entire enterprise.
With tremendous market consolidation and the merging of health systems with ancillary facilities such as physician practices, diagnostics & lab facilities and ambulatory surgery centers, the use of a system-agnostic tool to gain such insights would deliver substantial value.
Reporting and Analysis
Like all healthcare providers, Epic-based organizations have an inherent need to optimize operational and financial performance. In general, healthcare has operated with extremely tight financial margins and the ongoing impact of the pandemic has further exacerbated this reality. This makes it crucial for organizations to analyze every aspect of the revenue cycle for potential improvements.
Charges are the foundation of provider revenue, but ensuring charge accuracy is a constant challenge. Some patient encounters can involve dozens or even hundreds of charges across multiple departments, and the best practice in charge capture is to review and validate accuracy on a daily basis.  To assist with this, Epic's reporting functionality can be used to create reports that compile charges by the department for review by a designated associate on a frequent basis.
Organizations approach these reviews in different ways, but a common approach is to export the data to an Excel file and then manually review them. While not ideal, this does enable the opportunity to leverage Excel functionality such as V-Lookups for more savvy staff members to expedite their reviews.
To further reduce the effort required to review and validate charges, third-party solutions offer even greater functionality. In addition to aggregating the charges, they include rule-based analysis to assess initial accuracy to parse out 'clean' charges and isolate the charges in need of human review, which are then posted for review by the designated resource for each department. This dramatically reduces the effort needed to ensure charge integrity across all encounters.
Enhancing Revenue and Financial Health with Epic Charge Capture
Accurate charge capture and reconciliation is a crucial task for all providers, and for organizations using the Epic EHR, there are many variables to consider to achieve these goals. By understanding the nature of how charges are captured within Epic, as well as the options for reviewing them for accuracy, you can optimize charges across all encounters to improve revenue cycle performance.
Epic Charge Capture Frequently Asked Questions
Epic, a market-leading EHR platform, has three primary methods for charge capture: automatic application through triggers, manual application during patient encounters, and manual assignment via HIM/Coding after encounters.
Epic Revenue Guardian is a module that uses rules called "edits" to scan data in Epic's clinical and billing systems for potential missed charges, helping ensure charge accuracy and thoroughness.
Third-party tools can automate the process of aggregating, analyzing, and correcting charge issues daily, reduce manual effort, and provide high-level reporting to monitor trends and identify problem areas.