In today's fast-paced healthcare environment, effective revenue cycle management is crucial for hospitals and healthcare providers. One key aspect of this process is charge capture – the accurate recording and billing of services provided to patients. Unfortunately, many healthcare organizations struggle to maintain a transparent and efficient charge capture process, resulting in revenue leakage and financial losses. It is vital to understand the basics of charge capture, the risks associated with an inefficient process, and outline three essential steps to optimize your charge capture system. By implementing these strategies, healthcare providers can not only increase revenue but also enhance patient satisfaction and overall operational efficiency.
What is Charge Capture?
Charge capture is the practice of health care providers documenting and recording their performed services and then submitting those charges for payment from a patient or insurance provider.
After a patient has completed their visit, the hospital moves on to the charge capture process. Charge capture is a major opportunity for a healthcare organization to locate revenue leakage. A hospital with 189,000 missed charges in a single month can lose $36 million in missing revenue. Accurately documenting medical services and communicating them to the billing office will increase your recovered revenue, secure revenue integrity, and complement the revenue cycle's overall performance.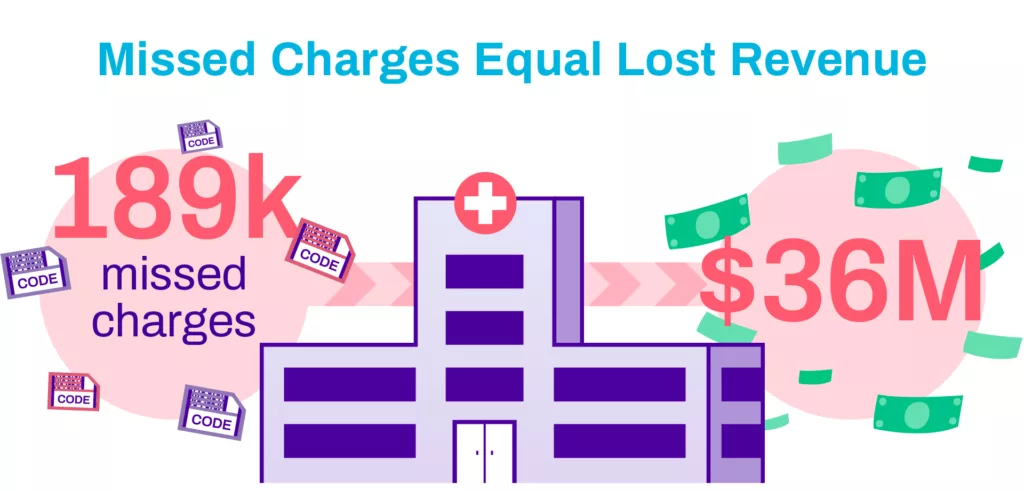 What is the Difference Between Charge Capture and Coding?
Charge capture and medical coding are both essential components of the healthcare industry; however, they are distinct practices that serve distinct purposes. Charge capture refers to the process of recording and submitting patient charges to insurance providers for reimbursement. This includes documenting the services and procedures provided to patients, as well as ensuring that the codes used for billing are accurate and appropriate.
On the other hand, medical coding involves translating the diagnoses, procedures, and treatments provided to patients into standardized codes that are used by healthcare providers, insurance companies, and government agencies. While charge capture and coding may sound similar, they are both crucial for ensuring that the healthcare system operates efficiently and accurately.
Charge Capture Basics
Charge capture is a way for healthcare providers to record the services performed on patients. One of the most common sources of revenue leakage is improperly captured or incorrectly billed charges for procedures and supplies. Hospitals may know they're losing revenue but fail to realize the extent to which incorrect charging and coding contribute to the problem.
Most hospitals can't see into their charge capture process in a way that empowers them to identify the specific sources of revenue leakage and where their actions are out of alignment with industry best practices.
A major billing error can be caused by something as ordinary as a typo in a patient's medication log. There is no way to detect such a typo without comparing the pharmacy spend data to the chargemaster data and looking for specific products being purchased but not billed correctly.
With up to 40,000 or more line items in a hospital's chargemaster, the potential for costly errors is high, and likely to result in lost revenue, rework, fines, and penalties. Add all that up, and you're looking at some hefty losses that could have been avoided. Identifying the source and extent of leakage is essential to achieving revenue integrity and optimizing financial performance.
Tired of missed opportunities in healthcare billing?
Discover best practices with our free Healthcare Charge Capture Ebook. Delve into expert advice and gain insights to elevate your billing efficiency.
Grab your copy today!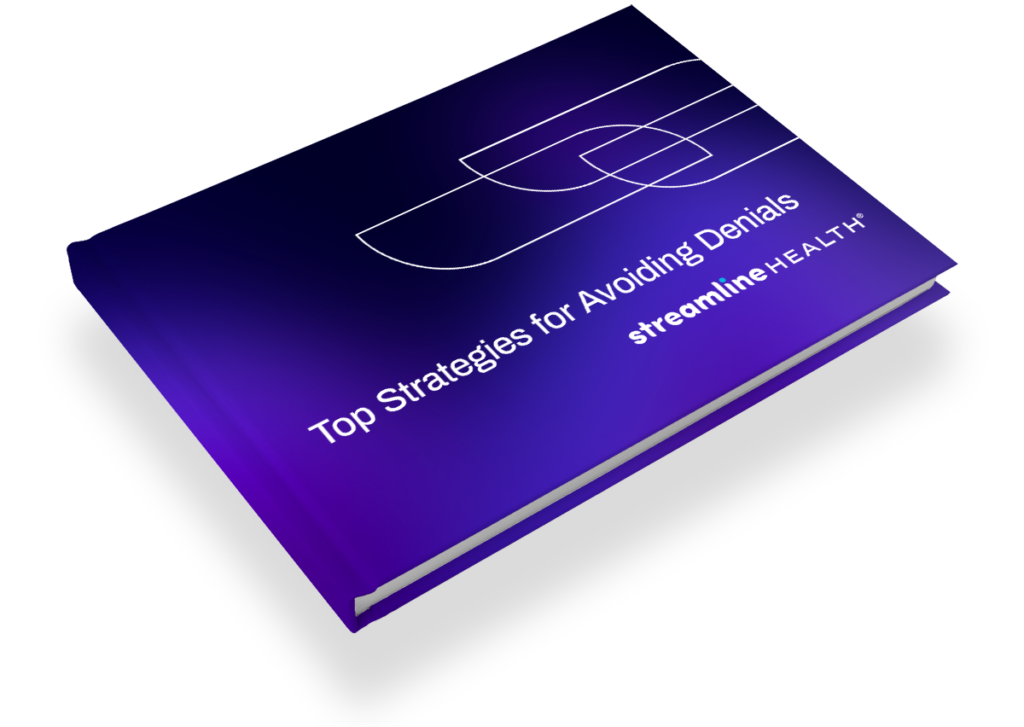 3 Steps to an Efficient Charge Capture Process
Align Your Teams
To expedite your charge capture process, one of the first things you can do is establish departmental relationships and communications between clinical staff and your revenue integrity team. While it's essential to problem-solving documentation issues, the revenue integrity team shouldn't order clinical staff around. Instead, the relationship should be a bipartisan agreement that both parties will work together to fix the system's revenue cycle.
Identify Gaps Through an Audit
It can be difficult to pinpoint the exact root causes that are causing issues in your charge capture process. A medical coding audit can be helpful in that it allows a dedicated team to directly focus on locating the origin of charge-related discrepancies.
Some of the benefits of a charge capture audit include identifying improper billing practices and locating coding errors, which translates to inaccurate patient billing. This ends up improving patient satisfaction in the long run! Investing in an audit means you're protecting your hospital system from unnecessary charges, unbilled encounters, or missed charges.
Implement Charge Capture Software
Using charge capture software gives you easier access to your CPT codes, which in turn allows the coding to be more accurate. It can also alert your team of missing charges and set up work queues to flag patterns in your system where there are codes linked to multiple missing charges.
The most efficient form of charge capture uses mobile devices such as smartphones and tablets. Mobile charge capture assures enhanced billing accuracy, lower charge lag, and integration within the EHR/PMS system of the hospital. Your physicians can easily scan between ICD-10 codes and keep everything in one accurate place.
Charge Capture Solutions
According to a 2018 market study by Ingenious Med, nearly 60% of healthcare leaders polled were unaware of potential standalone charge capture solutions.
Third-party partners have spent years working in effective revenue cycle management and charge capture. With first-hand knowledge of the healthcare ecosystem, they've developed charge capture tools that not only seamlessly integrate within your hospitals, but also will help increase patient satisfaction. Besides their software, third-party partners can also assist in manual solutions like process mapping, staff education, or even system audits. From billing experts to EHR implementation specialists, third-party developers understand how hospital staff operate within existing systems/processes and can help you revolutionize the way your hospital operates.
Automated tools like charge capture software are your best approach to improving your charge capture process through the recognition of systemic errors and issues that impact operational and financial performance. Yet there are still plenty of hospitals and facilities that try to solve their charge capture issues with only manual solutions – while these solutions can solve part of the problem, they aren't a holistic approach to achieving charge capture nirvana.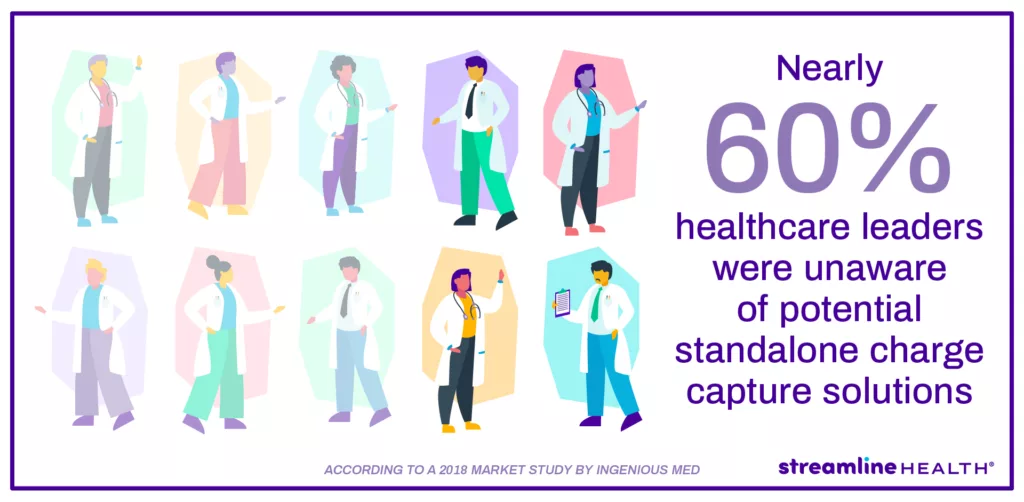 Charge Capture Frequently Asked Questions
Accurate charge capture helps prevent revenue leakage, enhances patient satisfaction, and improves overall operational efficiency.
1) Align your teams, 2) Identify gaps through an audit, 3) Implement charge capture software.
It provides easier access to CPT codes, alerts missing charges, and allows for better integration within the hospital's systems.
They offer tools, expertise, and services to optimize charge capture, including software, process mapping, staff education, and system audits.