The healthcare revenue cycle is the flow of money through a hospital. Revenue cycle management is the process of finding, gathering, and managing the flow of revenue from patients and payers to ensure monetary stability and success in the healthcare industry. On this page, we will unpack what revenue cycle management is, identify potential pitfalls, list some revenue cycle management steps a hospital can take, and finally examine the software revenue cycle management solutions Streamline Health offers that can help a healthcare organization thrive.
Check out our Video Guide on xxxxxxxx

What is a Revenue Cycle?
A healthcare organization is like a complex organism with the life purpose of diagnosing, treating, and caring for patients. And just like the patients it treats, a healthy hospital has many interrelated parts, systems, and limbs working together successfully for patient care. If those parts are not working well, the healthcare organization can become sick.
The revenue cycle is the flow, management, collection, and capture of all revenue.
In this metaphor, revenue flow is the blood, giving life and allowing a hospital to continue to beat and operate. It is also an indicator of potential problems within the hospital. More properly, the revenue cycle is the processes centered around the financials in all departments from administrative to clinical functions. Managing your entire revenue cycle is critically important both to ensure your healthcare organization's continued operation and also to help uncover and reveal potential problems within your hospital.
Analyze 100% of coded cases before billing and recover millions in missing revenue.
As healthcare's only automated pre-bill coding analysis solution with real-time results, Streamline Health eValuator™ enables you to easily identify, quantify and expedite correction of the issues with the greatest impact on your revenue integrity and financial performance from your Inpatient, Outpatient, and Pro-Fee care.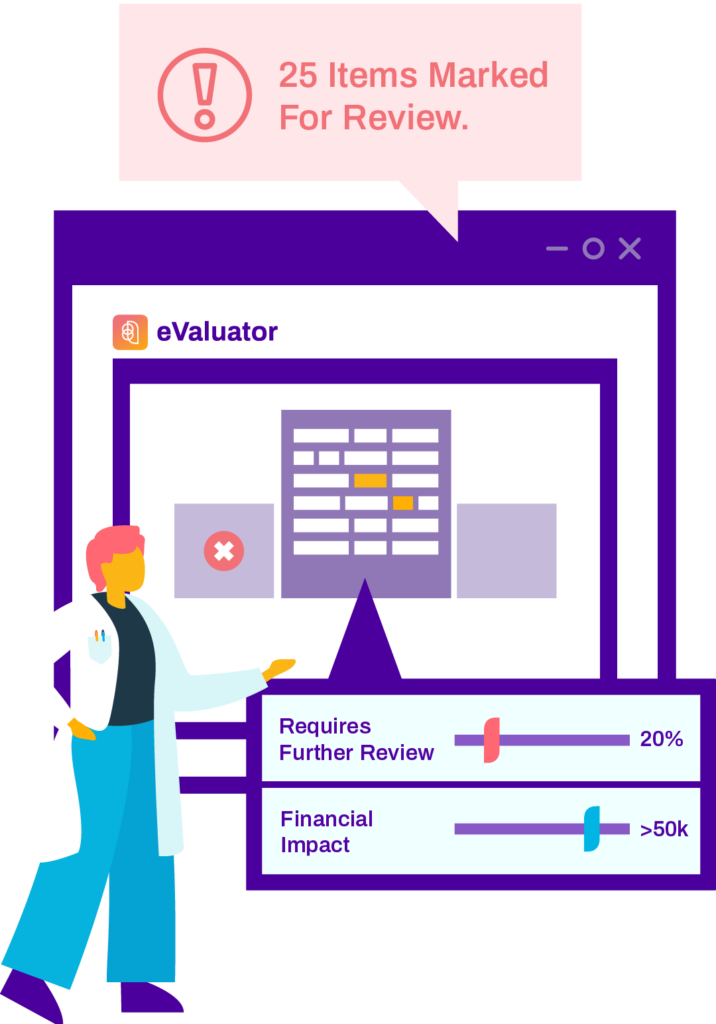 What is Revenue Cycle Management?
Revenue cycle management is tracking, supervising, and controlling all aspects of a hospital's revenue cycle.
All hospitals have a revenue cycle. It's your decision whether or not to manage it well. Not managing your revenue cycle would be akin to not caring for your body. You may think everything is alright, but you are most likely leaking cash and mismanaging time. If left unaddressed too long, mismanagement of your revenue cycle will have catastrophic implications for a hospital.
There is no grey area. Either you are managing your revenue cycle, or you are mismanaging it.
It's essential to get ahead of the problem as soon as you can. Revenue cycle challenges will only grow if left alone. There is no grey area. Either you are managing your revenue cycle, or you are mismanaging it. Hospitals need to identify some healthcare revenue cycle management steps to take if they want to take back control of their revenue cycle.
Revenue Cycle Management Steps
In this next section, we'll lay out seven steps that a healthcare network can undertake to gain control of its revenue cycle. It's important to note that no two healthcare organizations are the same, and each one has its own needs, requirements, and problems.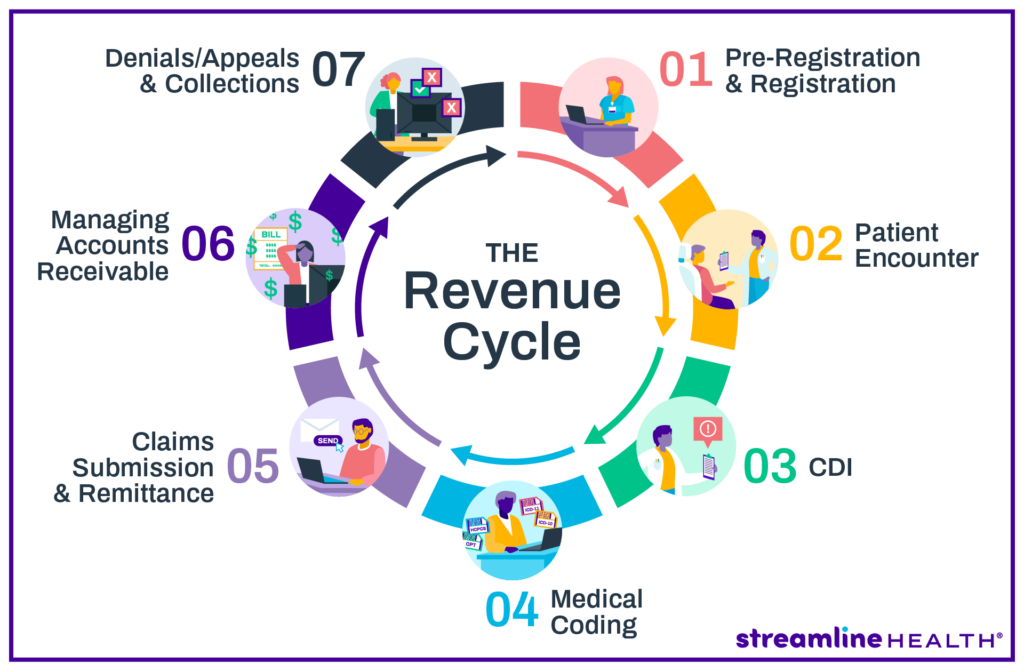 1. Patient Registration: Collect initial information about the patient.
Patient records are the starting point for accurate charging. Collecting that data begins with registration. Your registration forms should ask for the name of the patient, demographic info, medical history, and insurance and payment information. Having a sound registration system saves the client time, allows for an easier patient experience, and allows them to cover out-of-pocket expenses ahead of time. This is beneficial from the hospital's perspective, too, as paying ahead of time increases the likelihood that they will recoup money on time.
2. Charge Capture: Ensure that patients are billed for medical services received.
After a patient has completed their visit, finished their registration, and taken home their treatment, the hospital moves on to step two, charge capture. Charge capture is a major opportunity for a healthcare organization to locate leaking revenue. Missing charges can cost a hospital millions in lost revenue every year. Accurately documenting medical services and communicating them to the billing office is a critically important part of the revenue cycle management process and allows for quicker payer collection.
3. Chargemaster Coding: Properly code diagnoses and procedures.
All treatments, physicians, and medical services have to exist as codes in the chargemaster. A hospital should regularly dig into the chargemaster to check for errors, bad medical coding, or obsolete patient data. A well-managed healthcare organization will organize its chargemaster, making it easy to update all information across the system. If a chargemaster is not updated, it makes medical billing and calculating insurance payments almost impossible.
4. Insurance Claims: Submit claims of billable fees to insurance companies.
Dealing with insurance providers is a significant piece of revenue cycle management. A hospital needs to start this process by submitting claims of billable fees to an insurance provider. Every insurance company claim is an opportunity for revenue leakage, so being on top of the submission of billable expenses is of paramount importance. This can only occur if the service has been entered into the chargemaster. Submitting claims is only the first step in the actual collection of revenue.
5. Remittance Processing: Analyze insurance and patient payments for errors.
For various reasons ranging from clinical documentation errors to insurance mistakes, original payment is often miscalculated. That's why it's crucial to a healthcare provider have an A/R (accounts receivable) team to follow up with both insurers and patients to determine if that payment should be approved or rejected. Most rejected payments derive their errors from the patient registration forms, so following up on that data and filing the correct 835s and 837s will allow a healthcare organization to recoup revenue.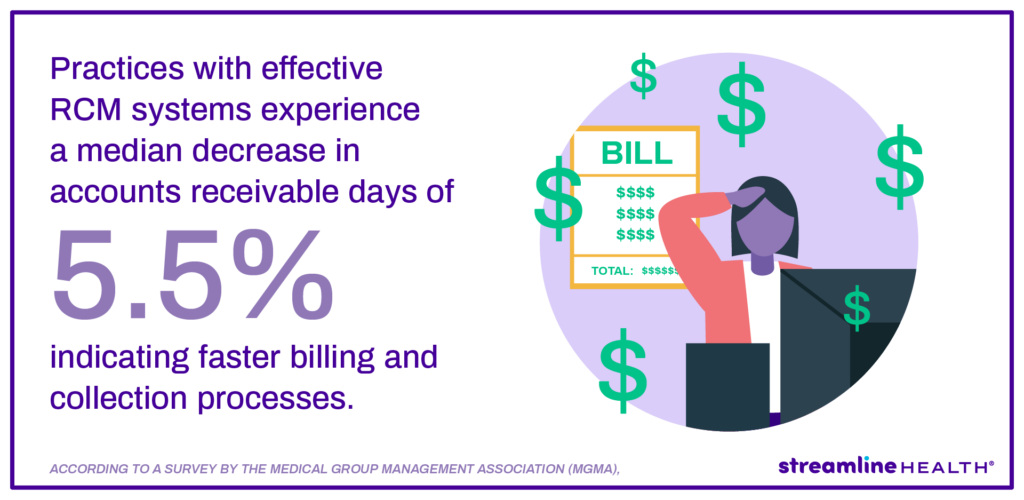 6. Collecting Insurance Payouts: Gather insurance payments and go over them to guarantee transparency for future negotiations.
After the final payment remittance, hospitals can formally collect insurance payments. This complex process needs to be double-checked as issues related to underpayments, claims denial, and banking deposit errors can cause revenue leakage. If a healthcare system is unhappy with its reimbursement, it can seek to adjust rates during the next round of insurance negotiations.
7. Patient Payments: Determine patient balances to bill and collect payments.
This last step is monitoring all outstanding accounts. Pursuing late payment has to be a priority for any hospital. As high-deductible plans are more and more becoming the norm, the responsibility for payments is now, more than ever, on the patients. This has implications for how a hospital thinks about pricing, especially with the new price transparency mandate. Hospitals need to be careful about how they pursue late payments. Good denial management can increase the likelihood of on-time reimbursement. Too aggressive an approach, on the other hand, may hurt their ability to reconcile late payments at all.
Potential Revenue Problems
Intersystem errors
Go ahead and recall that metaphor of a hospital as a living organism. Just like the body has many systems, including vascular, nervous, and digestive, a hospital is composed of many departments and systems from labs, to billing, to administrative and clinical functions, that all have different and overlapping functions. For a body to function, those systems need to work together well. Discrepancies, errors, and miscommunication between those systems can and will cost a hospital time and money.
Missed and Delayed Charges
Charging is not a simple process. Insurance contracts need to be sorted out, deductibles calculated, treatments accounted for, and various mountains of paperwork filed. Any combination of factors can lead to missing and delayed charges resulting in revenue loss. One of the most significant contributors to revenue loss is discrepancies between clinical and billing. If charges are not being accounted for at the physician level, a hospital is losing money. Building an effective, clinically based charging system is crucial for any hospital looking to take control of revenue cycle management.
Record Issues
The last couple of decades have seen a rapid evolution in healthcare record-keeping. In the early 2000s, paper records were still the status quo for most hospital systems. With technological developments and legislation pushed by successive administrations, however, more hospitals are converting to EMRs and EHRs every year. While ultimately a good thing, a clumsy implementation can result in major revenue leakage. Missing records and incomplete EHRs lead to missed charges, lost treatments, and leaked revenue, often in the millions every year. Additionally, with layers of rules and regulations around client record privacy rights, failure to comply comes with a hefty penalty.
Chargemaster Issues
The chargemaster is not always a particularly nimble tool. It can be a convoluted and chaotic place, and a lack of transparency is a challenge that every healthcare organization faces. Failure to understand or pull data leads to outdated charging information and eventually loss of revenue. For healthcare organizations looking to take some steps toward effective revenue cycle management processes, digging into the chargemaster is a great place to start.
Insurance Contract Discrepancies
A significant part of the healthcare revenue cycle is handling insurance providers. Each contract formed between a client, a hospital, and an insurance provider is different. Keeping track of all these contracts is extraordinarily difficult. Failure to manage insurance contracts means both leaking revenue and also not having the transparency to negotiate future insurance coverage rates beneficially.
Banking Deposit and Record Inaccuracies
A patient rarely pays out-of-pocket for all of their medical expenses. Instead, contracts with insurance providers create a complicated healthcare payer network. Those contracts alone can be a problem for revenue cycle management, as noted above, but even the successful payments from health insurance companies to providers can lead to revenue leakage too. Insurance companies deposit money directly into a healthcare organization's bank account. They then will send a record of that deposit to the organization's medical billing office. The problem is that the deposit doesn't always match the record, and balancing the discrepancy takes time and money.
Federal and State Compliance Penalties
Compliance with state and federal regulations is a must for healthcare providers and systems. These regulations range from HIPAA to SOC I & II, as well as new executive pushes like the recent Price Transparency Mandate. Managing your revenue cycle goes beyond merely keeping track of the cash flow in your hospital, but also includes doing external due diligence. A smart CFO will keep track of regulations and mandates, reading and riding the ebb and flow of government forces and legislation that affect a healthcare organization.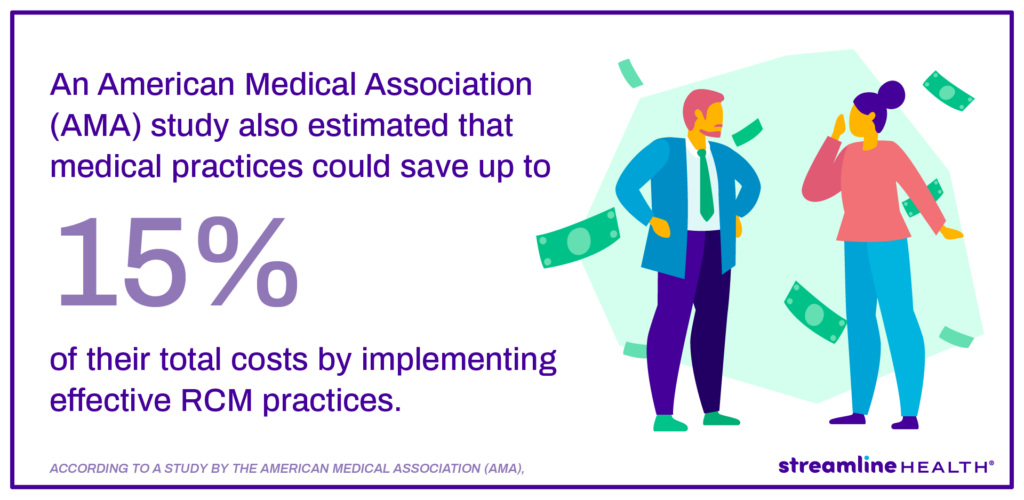 The Role of Technology in Revenue Cycle Management
Technology is key in enhancing Revenue Cycle Management (RCM) and making procedures more streamlined, precise, and efficient. Here's how it works:
Automation of Routine Tasks: Technology can automate mundane tasks such as patient registration, eligibility verification, and claim submission. This not only lessens the time and effort required but also reduces the likelihood of human error, thereby boosting the efficiency and precision of the RCM process.
Use of AI and Machine Learning: Cutting-edge technologies like Artificial Intelligence (AI) and Machine Learning (ML) can be employed to analyze patterns, forecast trends, and pinpoint potential issues in the revenue cycle. For example, AI can assist in predicting claim denials or delays, enabling proactive steps to tackle them.
Electronic Health Records (EHRs) and their Role in RCM: EHRs have a significant role in RCM by offering a comprehensive and current record of patient information. This enables precise coding and billing, efficient claim submission, and effective denial management. Furthermore, EHRs can be integrated with other systems to deliver a smooth and efficient RCM process.
Integrating technology into RCM can considerably boost revenue cycle performance, leading to enhanced financial results and superior patient care.
The Future of Revenue Cycle Management
The future trajectory of Revenue Cycle Management (RCM) is anticipated to be influenced by several emerging trends and technological advancements. Here's a sneak peek into what's on the horizon:
Predictive Analytics in RCM: Predictive analytics leverages historical data to predict future outcomes. In the context of RCM, it can assist in forecasting patient payment patterns, potential claim denials, and more. This enables healthcare providers to take proactive steps, enhancing efficiency and minimizing revenue loss.
The Impact of Telehealth on RCM: The advent of telehealth has brought new complexities to RCM, including distinct billing and coding requirements, reimbursement hurdles, and patient payment concerns. However, it also offers opportunities for enhancing patient access, reducing expenses, and broadening revenue streams.
The Role of Blockchain in RCM: Blockchain technology, renowned for its security and transparency, holds potential applications in RCM. It can be utilized to create secure, unalterable records of patient data, transactions, and contracts (like insurance contracts). This can simplify billing and payment procedures, diminish fraud, and boost revenue cycle efficiency.
As these trends and technologies continue to evolve, healthcare providers who adapt and innovate their RCM processes will be best equipped to enhance their financial performance and patient care.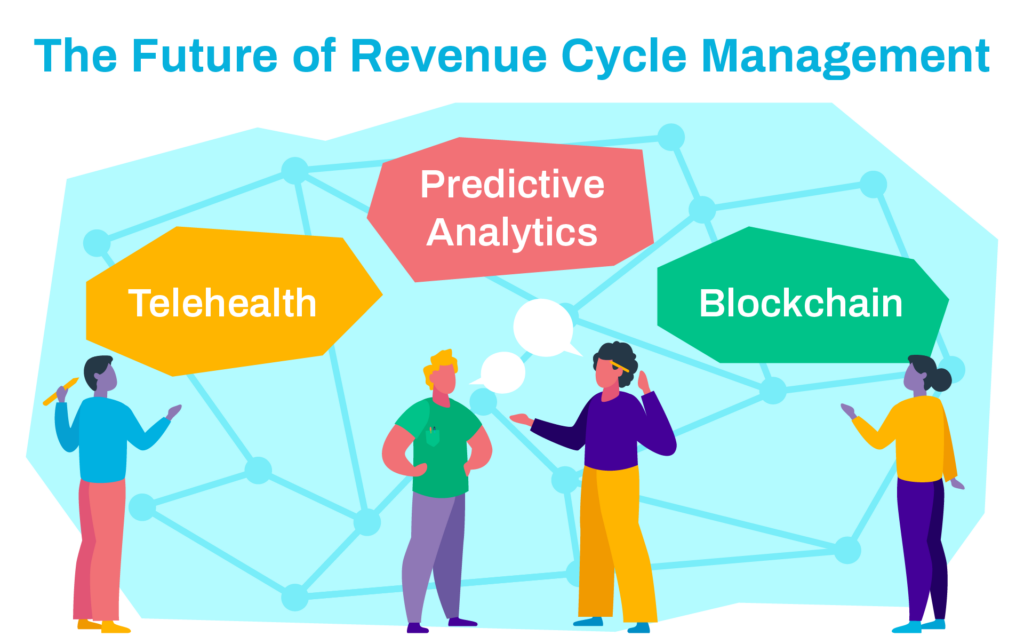 Software Solutions
Revenue cycle management is a complex task. We hope that we've answered some of your questions. The good news for healthcare organizations is that they don't need to fly alone. Third-party revenue cycle leaders can offer the software solution you need for your hospital's most pressing needs.
The good news for healthcare organizations is that they don't need to go it alone.
Revenue cycle management isn't something that a healthcare organization has to do by itself. If your hospital is leaking revenue, consider third-party conversion software such as Streamline Health.
Revenue Cycle Management Frequently Asked Questions
The key individuals in revenue cycle roles encompass staff handling patient registration, medical coding and billing, insurance eligibility verification, and claims management.
The most significant hurdle to effective RCM is frequently inefficient procedures, including manual tasks and antiquated systems.
Revenue Cycle Management encompasses data from patient registration to final payment, including patient details, insurance specifics, medical codes, and billing data.
Overseeing the revenue cycle necessitates enhancing each stage, from patient registration to final payment, often through automating processes, educating staff, and integrating technology.
Discover Streamline Health's innovative revenue management solutions to optimize your healthcare financial performance. Experience the benefits of our medical billing and coding software, charge capture software, and chargemaster management products under one roof. Our comprehensive platform offers the following:
Seamless integration with your existing systems
Streamlined workflows and maximized revenue capture
Enhanced efficiency through advanced analytics and reporting
Tailored solutions for healthcare providers
Start your journey toward an optimized revenue cycle with a demo of our automated revenue cycle management software. Explore our products or connect with our sales team to find the perfect fit for your organization.