Over the past several years there has been a shift in the healthcare world. Clinical and financial systems are improving data management by migrating from paper record-keeping to electronic files, and hospitals that can't keep up could be missing out on record-keeping, patient safety of their discrete data, and revenue growth advantages. A successful EHR data conversion is achievable with a dedicated plan and resources to ensure clinical data retains integrity during the data conversion process.
What is an EMR Conversion?
An EMR conversion is the process of transferring data from paper medical records or an electronic medical record (EMR) to a single comprehensive electronic health record (EHR).
This allows for patient information to be easily accessed, updated and shared among healthcare providers.
The conversion usually involves scanning paper records into the electronic system and ensuring data accuracy. EMR conversions can be complex and time-consuming, but they are necessary to improve patient care, streamline operations and meet regulatory requirements.
Healthcare facilities must carefully plan and monitor the conversion process to maximize the benefits of electronic record keeping. Ultimately, an EMR conversion can enhance patient safety, improve clinical decision-making and contribute to a more efficient health organization.
Complete master file audits in seconds.
ChargeMaster management can be difficult, and with ever-growing complexity, discrepancies can feel impossible to track down. With Compare, even large data system transitions can be audited with ease in just seconds.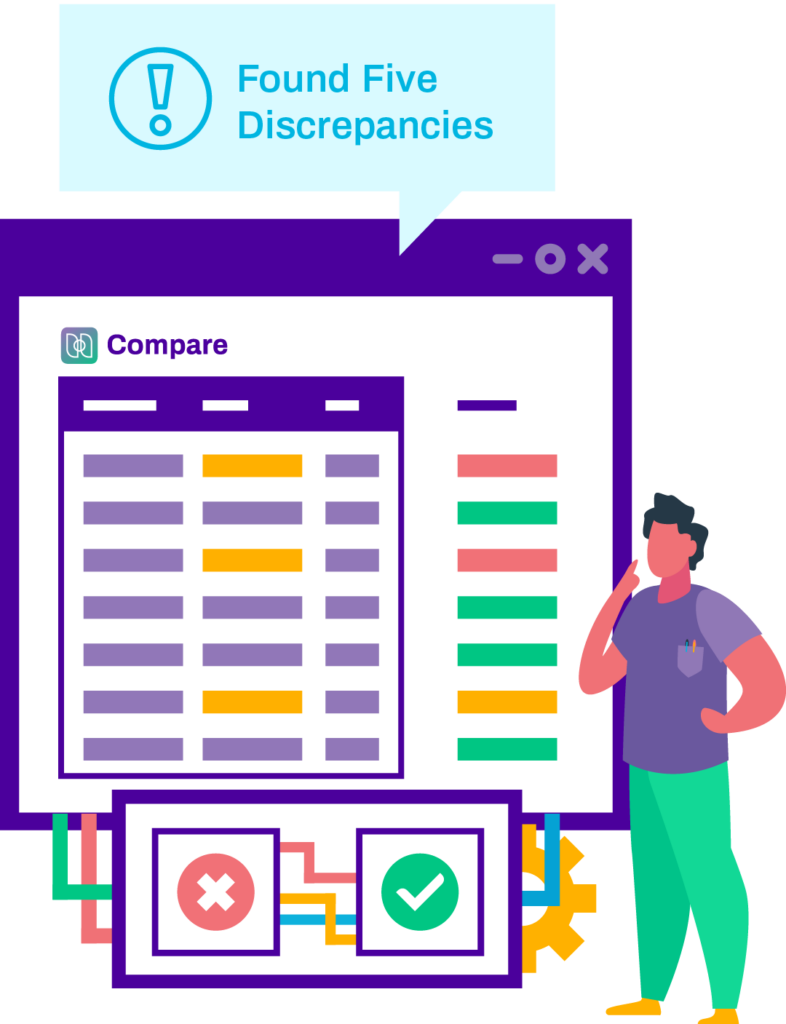 Why Having an EHR Conversion Plan is Important
Whether your hospital is considering going paperless, going from an EMR to an EHR, or even upgrading from one EHR to another EHR, there is a lot to consider, because the process can be complex. Here are a few of the complications many hospitals face when not having a plan or trusted vendor in place during the conversion:
Improper integration of EHR data with current hospital systems
Lack of personnel who understand the new system
EHR patient data gaps
Inability to convert data from the legacy system
Failure to have a functional workflow during the integration process
Losing HIPAA compliance during the data conversion process
Mistakes like these cost healthcare providers millions in revenue every single year. Besides the financial impact, struggling facilities will further be hindered in providing patient care to their communities as valuable financial resources leak out.  To have a compliant transition, it is important to have a foundation for the new system to stand on.
3 Steps to a Successful EHR Conversion
Supporting the Data Conversion Plan
The first step to prepping for an EHR conversion is building an in-house team to work with your vendor. This team should know how the healthcare system's financial, clinical, and billing data interplay with one another. It is also ideal that this team has some prior experience with implementing new software, which will pull from the IT department. Not only will your team assist the vendor with the data conversion, but will also work alongside your clinicians to ensure clinical data has a successful data conversion.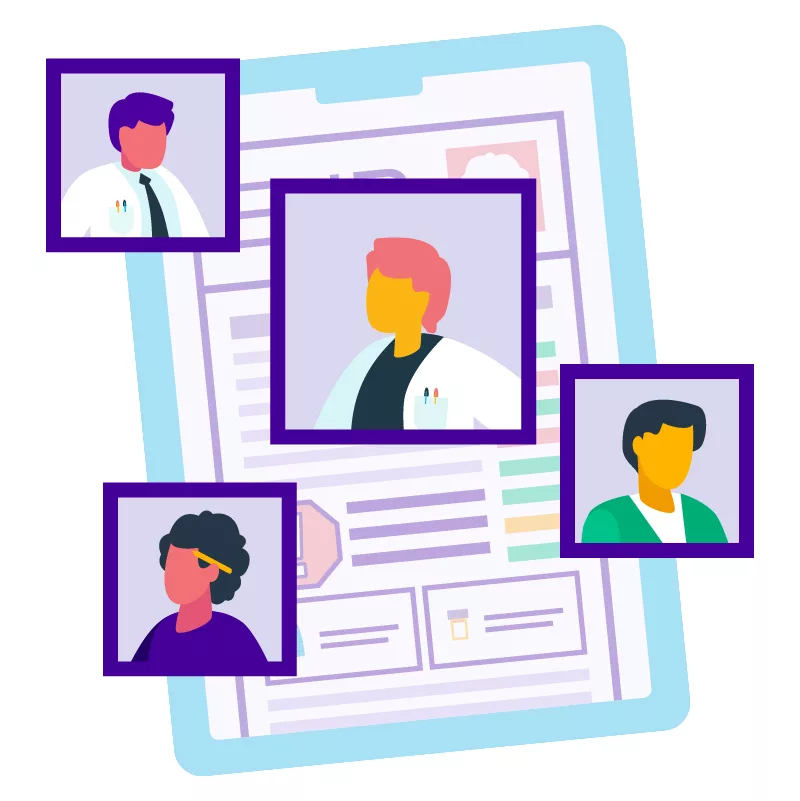 Build the EHR Implementation Plan
The team's first job is to gather and organize current legacy data elements. This means examining what records system your healthcare organization currently uses. If you are already using an EHR or EMR system, this shouldn't take too long because the data is already digitized. If you're converting from paper, the conversion process could take several months and require additional staff to help with the conversion.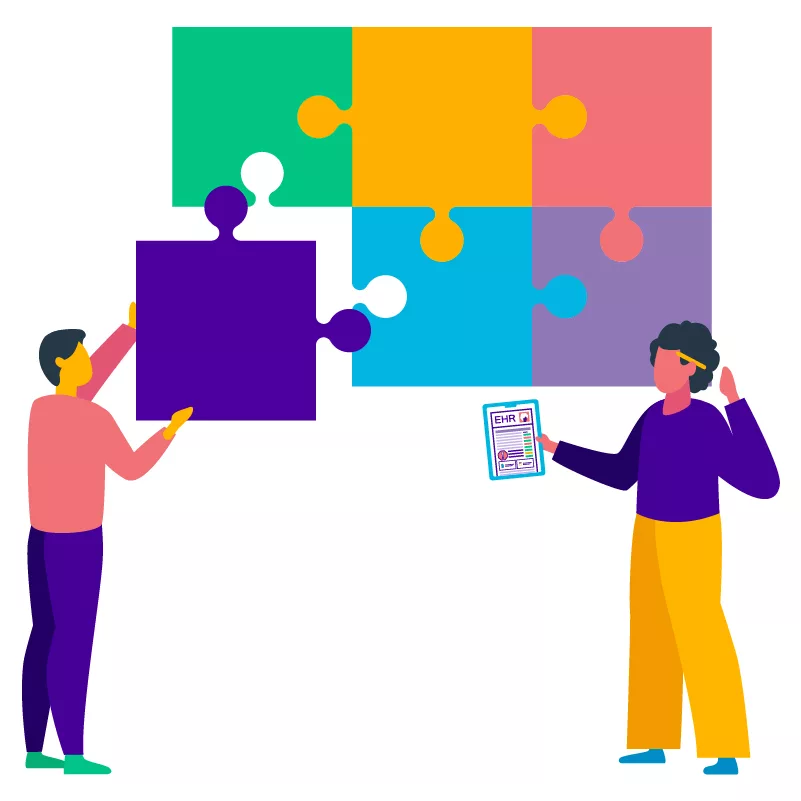 Once the data is organized, health systems need to realize what parts of their EHR  system need to be individualized to fit the needs of the organization. Self-analysis is essential and helps you understand your hospital record system better. You'll want to start with the macro details of your EHR goals and then work your way to the micro level. Your vendor will suggest improvements and help you achieve the goals you need from the implementation.
It's also important to take into account how the system will interact with the current systems in your health system. From registration to billing, it is important to ensure all of the connections are working properly and follow federal compliance.
Finally, your health system will want to do a practice go-live. Practicing a go-live is a crucial step as no go-live will be perfect. During the practice go-live, your team needs to be prepared to respond to any problems from the interaction of connected software system's failure to clinical data loss. We recommend a slow rollout with the teams that interact with the system to help train them to properly use the new EHR system and use test data before using live data. Record and report errors during this process so the EHR has the best possible go-live experience to further improve data integrity.
On-Going Support
After the go-live, additional support from the conversion team and vendor may be required as the system is put through its paces. As errors are found or updates occur, it is important to correct and keep the EHR system supported as part of a successful conversion. When new staff is added to the hospital, they will need training on how to properly use the system to maintain alignment within the organization's clinical, administrative, and financial workflows. Some healthcare organizations will create training materials with help from their implementation vendor.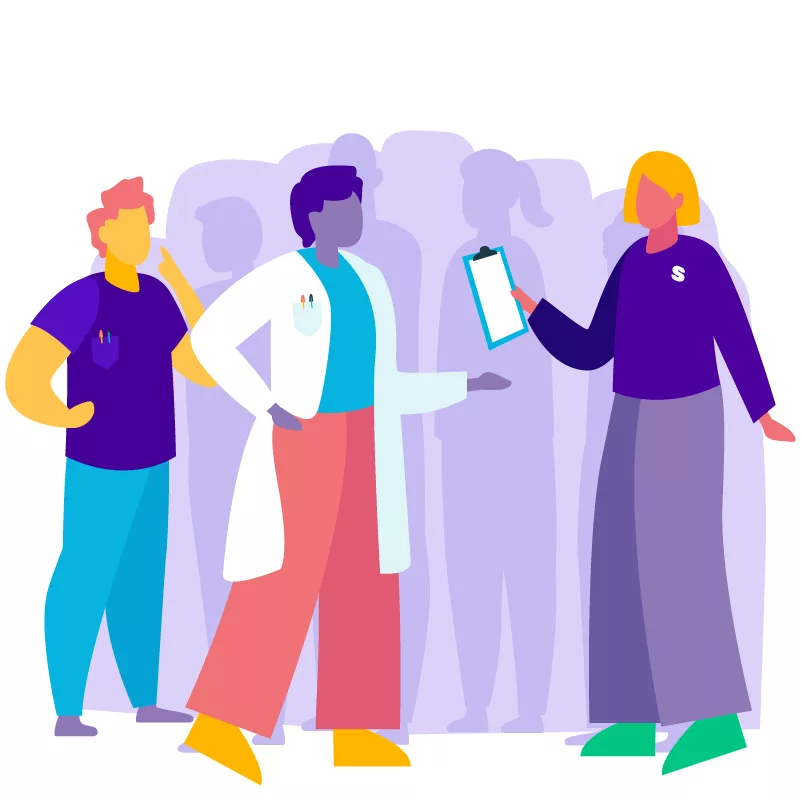 The Rewards of a Thoughtful Transition to EHR
Careful planning ahead of your EHR implementation will go a long way to preventing much of the risk of implementing new software. While not every step of the process is easy, it is rewarding to obtain a holistic view of a patient's health record to better diagnose and monitor their progress. EHRs have changed how hospitals use data to treat and maintain a patient's health and it's no wonder more and more systems are transitioning to EHR.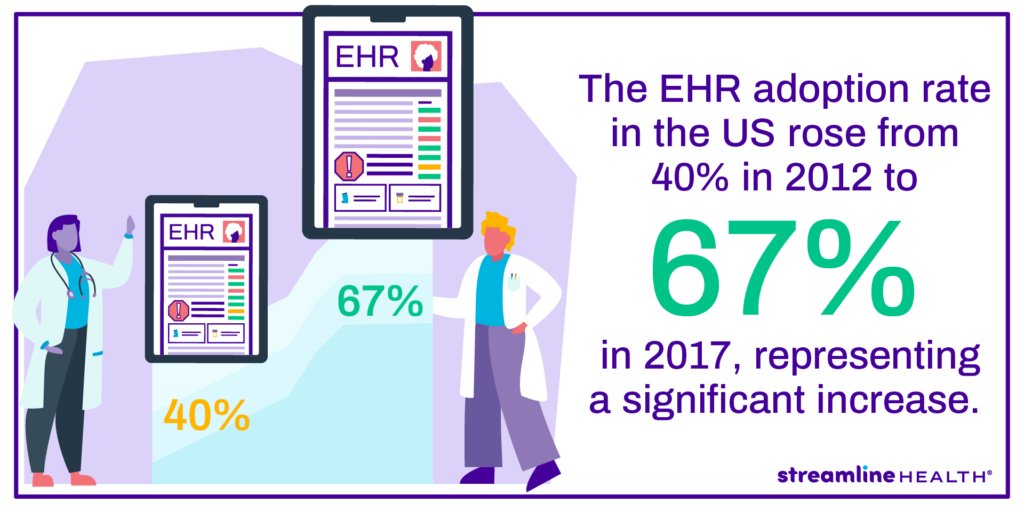 EMR Conversion Frequently Asked Questions
It helps avoid improper integration, data gaps, conversion failures, workflow disruptions, and HIPAA compliance issues during the conversion process.
1) Build a supportive data conversion team, 2) Develop an EHR implementation plan, and 3) Ensure ongoing support and training for staff.
EHRs offer a comprehensive view of patient health, improve diagnostics and treatment, and ensure compliance with federal and state regulations.
The vendor assists in data organization, system customization, improvement suggestions, and provides support during the conversion and go-live process.
Discover Streamline Health's innovative revenue management solutions to optimize your healthcare financial performance. Experience the benefits of our medical billing and coding software, charge capture software, and chargemaster management products under one roof. Our comprehensive platform offers the following:
Seamless integration with your existing systems
Streamlined workflows and maximized revenue capture
Enhanced efficiency through advanced analytics and reporting
Tailored solutions for healthcare providers
Start your journey toward an optimized revenue cycle with a demo of our automated revenue cycle management software. Explore our products or connect with our sales team to find the perfect fit for your organization.