In the healthcare industry, End-to-End Revenue Cycle Management (RCM) is extremely important. This approach helps healthcare organizations manage financial processes that arise from patient interactions with healthcare providers. RCM is essential for ensuring financial stability and success for the healthcare provider and organizations.
Check out our Video Guide on xxxxxxxx

Analyze 100% of coded cases before billing and recover millions in missing revenue.
As healthcare's only automated pre-bill coding analysis solution with real-time results, Streamline Health eValuator™ enables you to easily identify, quantify and expedite correction of the issues with the greatest impact on your revenue integrity and financial performance from your Inpatient, Outpatient, and Pro-Fee care.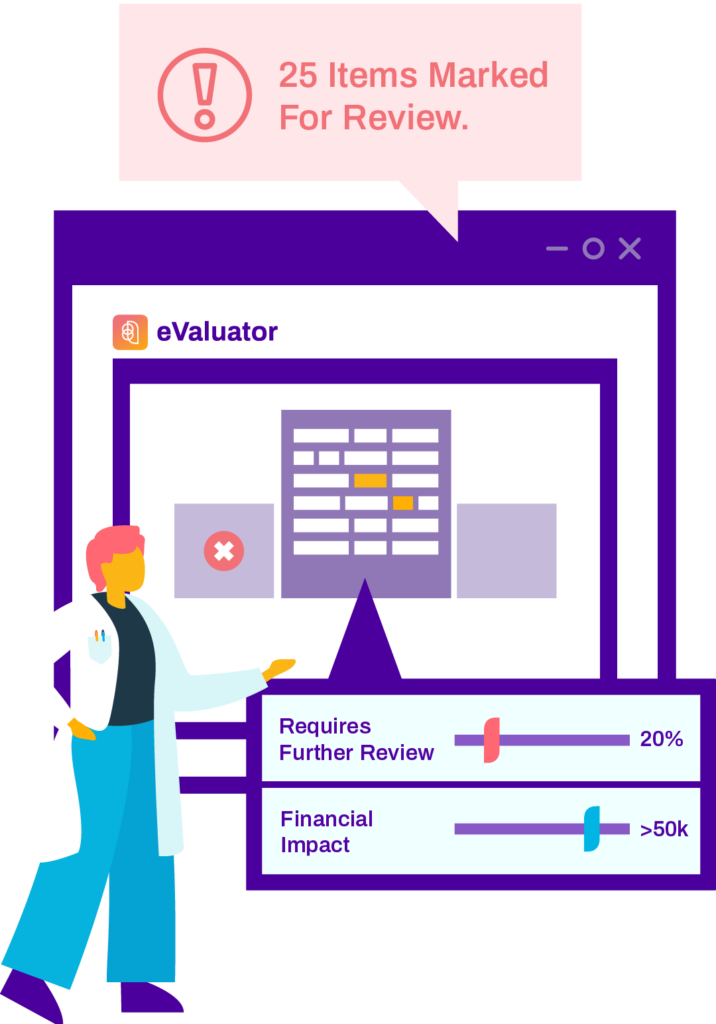 What is End-to-End Revenue Cycle Management?
End-to-End Revenue Cycle Management (RCM) is an all-encompassing method of managing revenue integrity and financial processes that arise from medical interactions between patients and healthcare providers. It involves all the tasks from day-to-day operations of patients booking appointments to receive medical care to the completion of payment collection and proper service accounting.
The Process of End-to-End Revenue Cycle Management
The RCM process is a thorough one that comprises various essential steps.
Patient Appointment Scheduling: The first step in the RCM process is to schedule patient appointments and gather their information. This step is very important as it lays the foundation for the entire revenue cycle.
Insurance Verification: Verifying the patient's insurance coverage is a crucial step in the RCM process that helps avoid denials and guarantees payment for the healthcare services provided.
Medical Billing: Medical billing involves creating bills for the services provided to patients, which are then submitted to insurance companies for payment. It's important to ensure accuracy in medical billing to maximize revenue opportunities.
Benefits of End-to-End Revenue Cycle Management
Comprehensive revenue cycle management solutions have revolutionized the way healthcare providers manage finances and optimize their workflow by improving efficiency and streamlining the financial process for healthcare organizations.
Optimizing Revenue Opportunities: By maintaining RCM integrity, healthcare providers can make sure that all the services they offer are billed and reimbursed correctly, enabling them to earn the maximum revenue. This not only enhances their financial performance but also ensures the longevity of their practice.
Reducing Administrative Costs: Efficient Revenue Cycle Management (RCM) reduces administrative costs by automating tasks like billing and collections.
Improving Efficiency: The use of RCM can make the revenue cycle more efficient for healthcare providers, which in turn can lead to better patient satisfaction and healthcare outcomes.
Challenges in Implementing End-to-End RCM
Despite the numerous benefits, implementing RCM is not without its challenges:
Compliance with Industry Regulations: Healthcare providers must ensure that their RCM processes are compliant with various industry regulations. Non-compliance can lead to penalties and damage to the provider's reputation.
Prevention of Claim Denials: Claim denials can significantly impact healthcare providers' revenue. Therefore, effective denial management strategies need to be in place as part of the revenue cycle process.
Partnership with Vendors: Choosing the right vendor for implementing a practice management system can be a challenge. The vendor must not only have the required expertise but also understand the unique needs of the provider.
The Future of End-to-End Revenue Cycle Management
The following factors are expected to shape the future:
Technology Improvements: The RCM process is expected to undergo a revolution with the help of emerging technologies like artificial intelligence, machine learning, and blockchain. By automating tasks, improving accuracy, and enhancing efficiency, these technologies can bring about significant improvements.
Sustainable Results Across All Settings of Care and Payment Models: To achieve sustainable results in all care settings and payment models, RCM needs to integrate different processes and systems while also prioritizing a patient-centered approach.
Final Thoughts
Revenue Cycle Management is essential for the financial well-being of healthcare professionals and organizations in the healthcare industry. It involves several steps, such as patient appointment scheduling and the collections process, to ensure revenue opportunities are optimized, administrative costs are reduced, and efficiency is improved.
Although there are obstacles in regulatory compliance, denial prevention, patient financial services, and vendor partnerships, technological advancements promise a brighter future for RCM. These advancements are expected to lead to more efficient and streamlined billing processes. The success of RCM depends on these process and technology improvements and its ability to provide consistent results in all patient care and payment settings. Healthcare providers must comprehend and execute RCM processes effectively to ensure timely payments and attain their financial objectives while providing excellent patient care.
End-to-End Revenue Cycle Management Frequently Asked Questions
The key steps include patient appointment scheduling, insurance verification, medical billing, and collections process. These steps together streamline the administrative and financial operations of healthcare providers, contributing to a sustainable business model.
End-to-End RCM allows healthcare providers to maximize their revenue by ensuring all provided services are accurately billed and reimbursed. This approach enhances the bottom line and helps maintain the sustainability of the healthcare provider.
Healthcare providers may face challenges in ensuring compliance with industry regulations, preventing claim denials, and choosing the right vendor for implementing a practice management system. Overcoming these challenges is crucial to effectively manage the revenue cycle.
Discover Streamline Health's innovative revenue management solutions to optimize your healthcare financial performance. Experience the benefits of our medical billing and coding software, charge capture software, and chargemaster management products under one roof. Our comprehensive platform offers the following:
Seamless integration with your existing systems
Streamlined workflows and maximized revenue capture
Enhanced efficiency through advanced analytics and reporting
Tailored solutions for healthcare providers
Start your journey toward an optimized revenue cycle with a demo of our automated revenue cycle management software. Explore our products or connect with our sales team to find the perfect fit for your organization.