In 2014, the mandate for healthcare providers to begin using electronic health records (EHRs) went into effect. While this impacted many physician practices, most larger healthcare providers already had some significant form of EHR in place. Simply put, delivering quality healthcare at scale is virtually impossible without the benefits of a centralized, digitized platform to collect, compile, analyze and manage the massive amounts of data it generates.
By design, an EHR system is focused on managing the clinical aspects of care delivery. However, given the complexities of managing the healthcare revenue cycle, it was only natural that EHR systems gradually expanded functionality to include some aspects of revenue cycle management. But the complexities of revenue cycle management still require dedicated tools from third parties. Nearly 70% of providers use multiple vendors for the tools to manage their revenue cycle processes and ensure revenue accuracy.
Integration of Revenue Cycle Processes
Whether the functionality is included in the EHR or provided via a third-party solution, having an integrated revenue cycle is paramount to operational and financial success. The need to simultaneously manage so much data that resides in multiple systems demands a high degree of integration to ensure smooth operations. Without integration, teams operate in informational 'siloes' that create data quality issues, stymie collaboration, create inefficiencies, and ultimately hinder operational and financial performance.
A defining element of an integrated revenue cycle is the ability to securely and automatically share common data across systems. This reduces the manual effort needed to input the data into different systems, which also prevents data entry errors for increased accuracy. In addition to improving internal processes, fewer manual tasks can increase staff productivity and often contributes to greater job satisfaction.
In addition to these transactional benefits, integration also ensures the organization has access to aggregated information across key systems. This enables departments to analyze how data and processes originating from one area influence downstream processes and impact the billing process. This also allows for many forms of data analysis to support daily operations while also providing insights into greater performance trends in pursuit of best practices that can save millions of dollars annually.
The following is a summary of the revenue cycle processes and how the integration of internal processes can improve operational and financial results.
Analyze 100% of coded cases before billing and recover millions in missing revenue.
As healthcare's only automated pre-bill coding analysis solution with real-time results, Streamline Health eValuator™ enables you to easily identify, quantify and expedite correction of the issues with the greatest impact on your revenue integrity and financial performance from your Inpatient, Outpatient, and Pro-Fee care.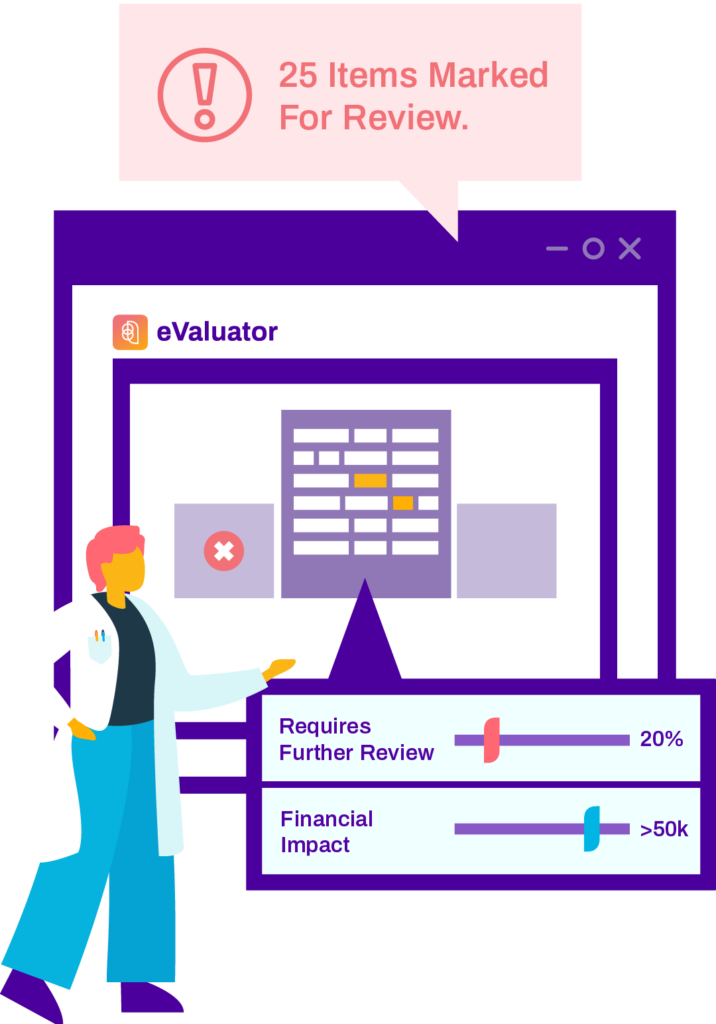 The Steps of a Healthcare Revenue Cycle
Pre-Registration and Registration
The Patient Encounter
Medical Coding
Claims Submission & Remittance
Managing Accounts Receivable and Denials
Denials/Appeals and Collections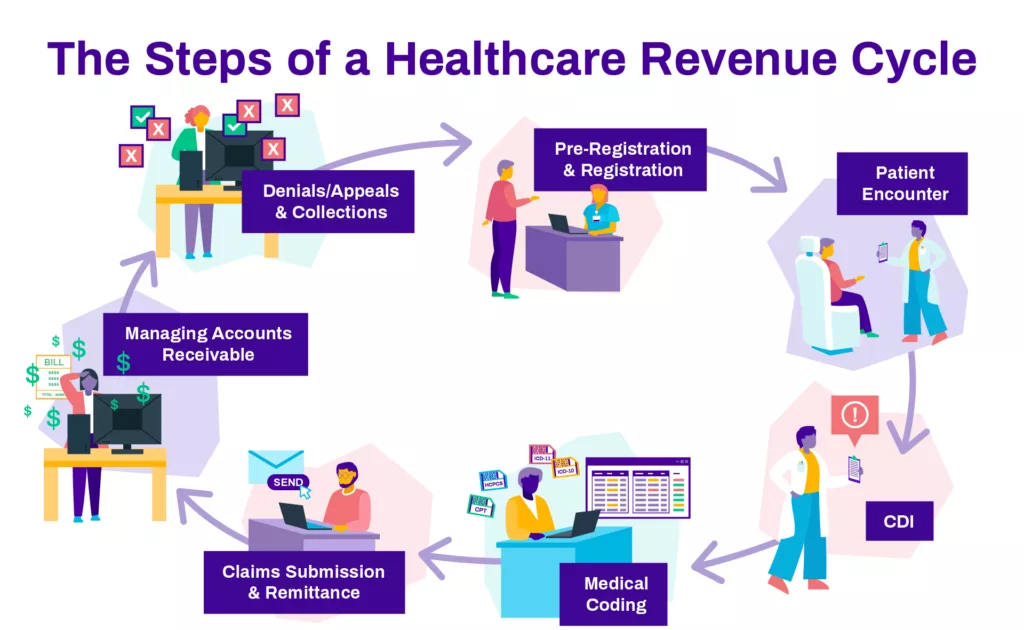 Pre-Registration
In terms of impact on financial performance, pre-registration is increasingly the most common focal point for improved revenue cycle integration. It's the first touch point with the patient, when the provider captures demographic information, confirms the treatment plan and collects the insurance details. Increasingly, patient eligibility is a major cause for payment denials, so providers are incentivized to validate insurance eligibility well in advance of the actual appointment.
Integration enables this with automation that connects with the payer's system (often through a clearinghouse) to validate key factors in the patient's coverage, deductible or co-payment, as well as any co-insurance like a Medicare secondary payer and subsequent requirements. The provider can also be notified if additional pre-service validation is needed, such as prior authorization or a referral.
The data for each of these elements is captured and, in an integrated revenue cycle, shared with respective departments as needed. If additional support or validation is needed, it's included in the record and stakeholders are updated as elements are confirmed.
Time-sensitive cutoffs are usually included so that if everything isn't validated, the necessary teams will be notified and the service may be delayed or canceled as needed.
Registration
By handling these details during pre-registration, the stage is set for easier engagement when the patient arrives for registration. Financial obligations will have been discussed, and the provider can collect any co-payments.
It's a best practice to re-check eligibility and referral needs, as these details can change and providers would rather double-check than risk a payment denial later.
The Patient Encounter
While the clinicians are delivering care to the patient, the integrated revenue cycle is already hard at work.  Documentation accruing during the encounter is subject to analysis from tools that extract valuable insights such as charges, which are added to the record. Additional insights can be gathered from supporting elements such as labs and diagnostic tests. Integration is key, as many of these elements are provided by ancillary facilities so having a unified view of all details is key to ensuring accurate charge capture. An innovative approach is using one system to pull in all charge data for encounter reporting, which simplifies the process of reconciling and updating charges to ensure revenue accuracy.
Most organizations utilize Clinical Documentation Improvement (CDI), a process that preps encounter data for the eventual medical coding step that follows. In CDI, staff may have a question about an aspect of the care delivery that would influence how the organization pursues reimbursement. If so, an integrated tool called Physician Query makes it easy to quickly message the associated clinician(s) for the requested information. It monitors the request, tracks and records the response, making it easy to manage such efforts to facilitate more accurate billing.
Revenue cycle integration during this stage also enables reporting to aggregate activity to identify trends.  If your team continually needs to address data coming from one area or provider, you have actionable insights to engage them with to consider revisions that would drive complete and accurate documentation and prevent the need for downstream effort and/or corrections.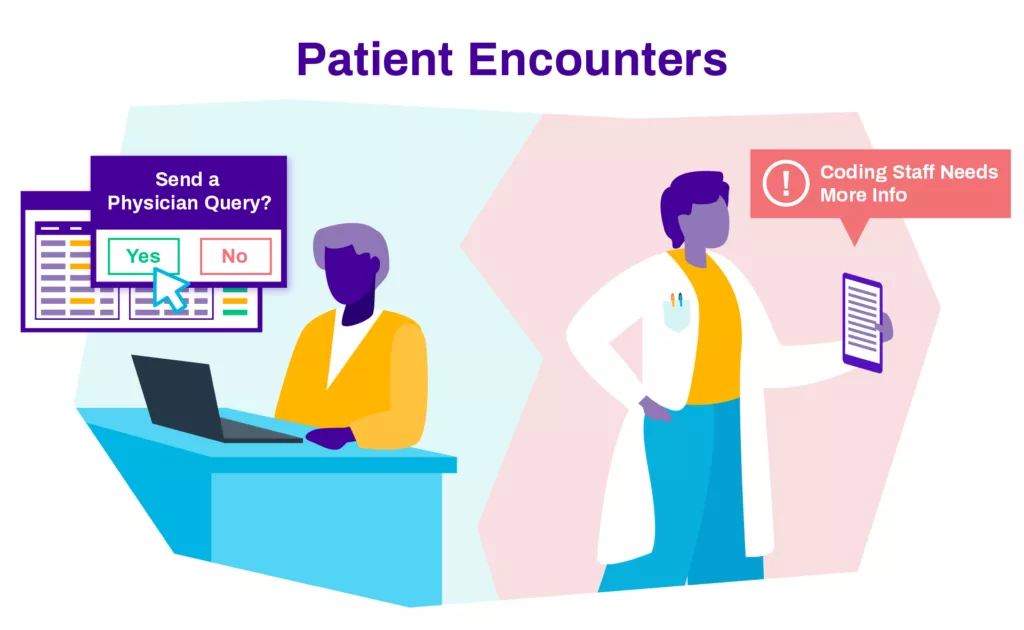 Medical Coding
Immediately following the patient encounter, the medical coding process begins. Coding involves the translation of the clinical, demographic, financial and payer data into standardized alphanumeric codes used by payers to assess the acuity and appropriateness of care prior to reimbursement. As another highly influential step in the revenue cycle, integration between clinical and financial systems is key to success as well as optimized revenue.
In medical coding, technology is a main driver of operational and financial performance. Automation that simplifies the assignment, monitoring and management of cases for coding staff makes it easy to align resources accordingly. In many cases, organizations will use analytics to pre-check the accuracy of coding, again relying on flexible automation to route highlighted cases to the best available resource for additional review. This allows your teams to focus solely on the priority tasks aligned with their skills.
If there are questions about coding accuracy, having an integrated system allows your audit team to flag the elements in question and return them to the coder. The coder can review and address issues, then release the updated claim for submission to the payer.
Claims Submission and Remittance
After claims have been approved internally, they're submitted along with all other claims to the payer for reimbursement, usually by way of a clearinghouse. A clearinghouse operates like a mailroom, sorting out the claims by each payer and delivering them in the preferred format.
All transactions with a clearinghouse are included in transmission reports, which include the claims initially being sent to each payer, along with the responses from the payer on the status of existing claims. Revenue cycle integration enables providers to sort through these reports, matching the current status to the associated claims, and prioritizing the next steps. Previously sent claims may have been rejected due to issues such as incorrect coding, lack of prior authorization, data quality issues, missing information or other payer compliance issues, which alerts the team to assess the best response.
Using these insights, the revenue cycle team can focus resources on addressing unresolved claims, while also matching up payments and other feedback from previous claims to post to the respective accounts. Manually reviewing and matching these is tedious, so many providers leverage sophisticated technology such as robotic process automation (RPA) to handle these tasks at scale while reducing costs.
Managing Accounts Receivable and Denials
All revenue cycle operations have a dedicated team assigned to manage their Accounts Receivable (A/R), which are the claims submitted but not yet paid.  Given the myriad reasons why claims are delayed or denied, providers usually have specific strategies built around managing A/R, with a dual focus on both increasing the velocity of claim payment while also identifying the reasons for payment delays/denials, and how to best prevent them.
If a claim has been denied, it requires an assessment of how to best respond. Some denial management is administrative in nature, such as missing/inaccurate patient information which can be easily validated and returned, whereas others may require a more detailed assessment such key factors such as incorrect coding that isn't supported by the provided documentation. In both cases, having integration allows your team to sort, prioritize and distribute cases accordingly. It also allows you to perform analysis on trends to assess root cause and enact preventative measures as needed.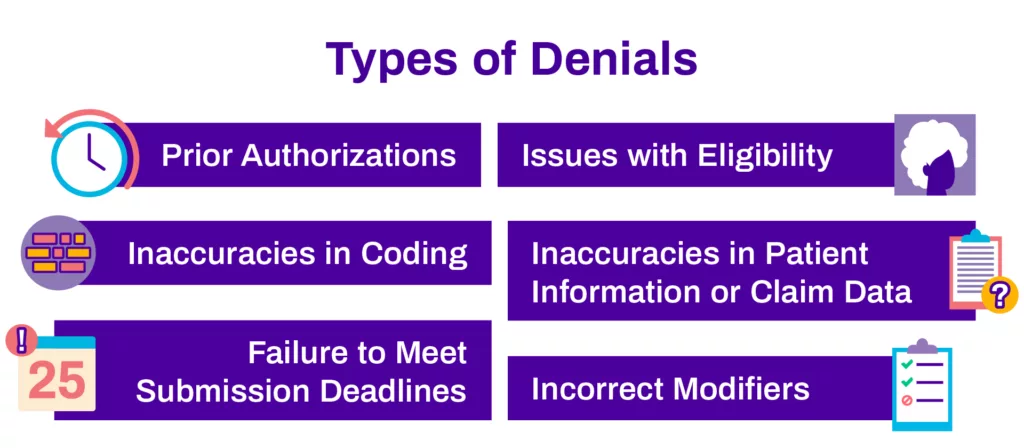 Patient Payments
Another aspect of A/R is the financial opportunity cost of collecting from patients, which can be difficult. As mentioned in the Pre-registration section, the ideal scenario is to establish the patient's financial responsibility prior to service and make arrangements for them to pay, either while in the office or through an arranged payment schedule.
After care delivery, patients may still have fees due which would be communicated via patient statement. Most organizations have a dedicated team assigned to follow up with patients to address any outstanding balances until the patient account is closed.
Clinically Driven Revenue Cycle
As healthcare in the US continues to transition from a fee-for-service model to value based payments that share the risk between both the insurer and provider, the need to leverage clinical data in the revenue cycle will continue to grow. This will increase the need for a flexible, integrated approach to managing operations, as well as oversight controls, in order to maintain compliance and ensure revenue accuracy.
Some forms of delegated risk models are already in place with programs such as Medicare Advantage (MA) where provider organizations who can consistently demonstrate quality care to members receive optimized MA premium payments.
Forward-thinking health systems are already aligning their internal processes to support value based payments and are looking to expand on the integrated revenue cycle shared above, helping safeguard revenue and reduce costs in the new payment models.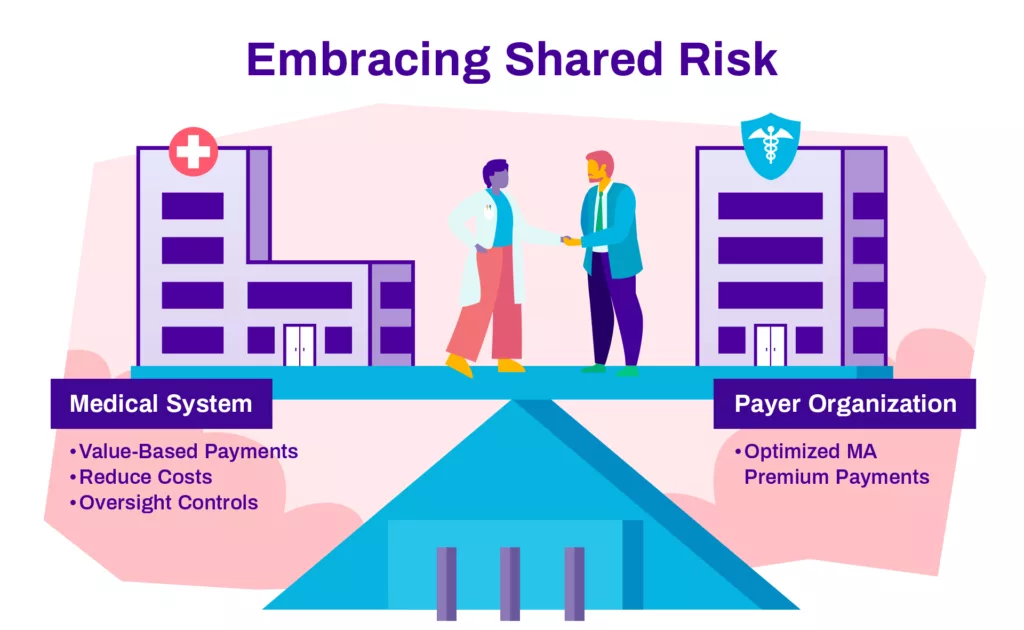 Integrated Healthcare Revenue Cycle Frequently Asked Questions
Integration eliminates data silos, prevents data quality issues, streamlines collaboration, and enhances operational and financial performance.
Integration automates insurance eligibility verification and shares data with relevant departments, reducing manual effort and increasing accuracy.
Integration enables smooth communication between clinical and financial systems, optimizing resource allocation and improving accuracy and efficiency in coding processes.
Integration helps prioritize and distribute cases, analyze trends, and enact preventative measures to reduce claim denials and payment delays.