In today's fast-paced healthcare industry, staying compliant and maintaining efficient operations is essential for the success of hospitals and healthcare providers. With numerous regulations, billing procedures, and ever-evolving medical codes, it is easy for errors and inconsistencies to accumulate. A healthcare audit can be a game-changer for organizations seeking to improve their revenue cycle, enhance patient experiences, and ensure compliance. It is key to understand the importance of healthcare auditing, the key benefits it brings to hospitals, and how investing in a robust auditing process can lead to long-term improvements in efficiency, compliance, and overall patient care.
What is a Healthcare Audit?
A healthcare audit is a comprehensive and in-depth evaluation of the practices and processes in a healthcare facility. While there are numerous types of healthcare audits, the most common internal inspections usually primarily focus on building a framework to assess the coding and billing aspects of your organization. Through internal healthcare audits, you can detect emerging trends, detect risks, and act before larger issues arise, like a third-party audit. If your hospital has breaches or issues during an audit from one of the Big Four, you can receive millions of dollars in fines and have your chances of receiving loans severely affected.
A hospital's success revolves around its policies and procedures that encourage accuracy and accountability. Even with these principles, many healthcare providers still find they can have weak spots that haven't been identified or existing ones that staff doesn't know how to fix. Fortunately, that's where healthcare auditing steps in to find the gaps that are causing hospitals the most harm.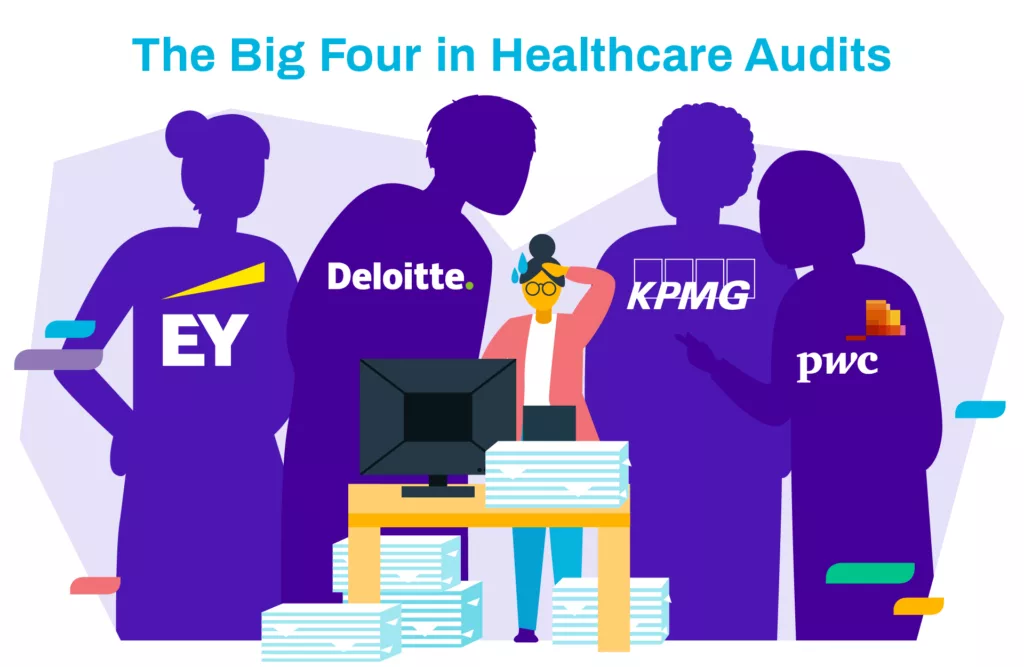 Who Performs Healthcare Auditing?
The days of trying to maintain manual systems are done. For the average hospital, there are too many records and pieces of documentation to keep track of without a proper process that analyzes your information and lets you know if you're missing anything. Every healthcare provider must maintain effective healthcare compliance to be effective in its operations and in doing so, will provide quality improvements to patient care.
Medical or healthcare auditing, which is often conducted via a third-party expert, acts as quality assurance to your hospital's daily routines. Through their audit process, outside investigators are able to look at your organization with a fresh set of eyes, and with their background and training, will detect and highlight potential areas of improvement. Most auditors have some sort of experience in medical coding and revenue cycle processes. Many auditors will also give you action-oriented steps towards improving your facility after their report is completed. Armed with this new knowledge, you can begin to make significant and thorough improvements to your revenue cycle.
Complete master file audits in seconds.
ChargeMaster management can be difficult, and with ever-growing complexity, discrepancies can feel impossible to track down. With Compare, even large data system transitions can be audited with ease in just seconds.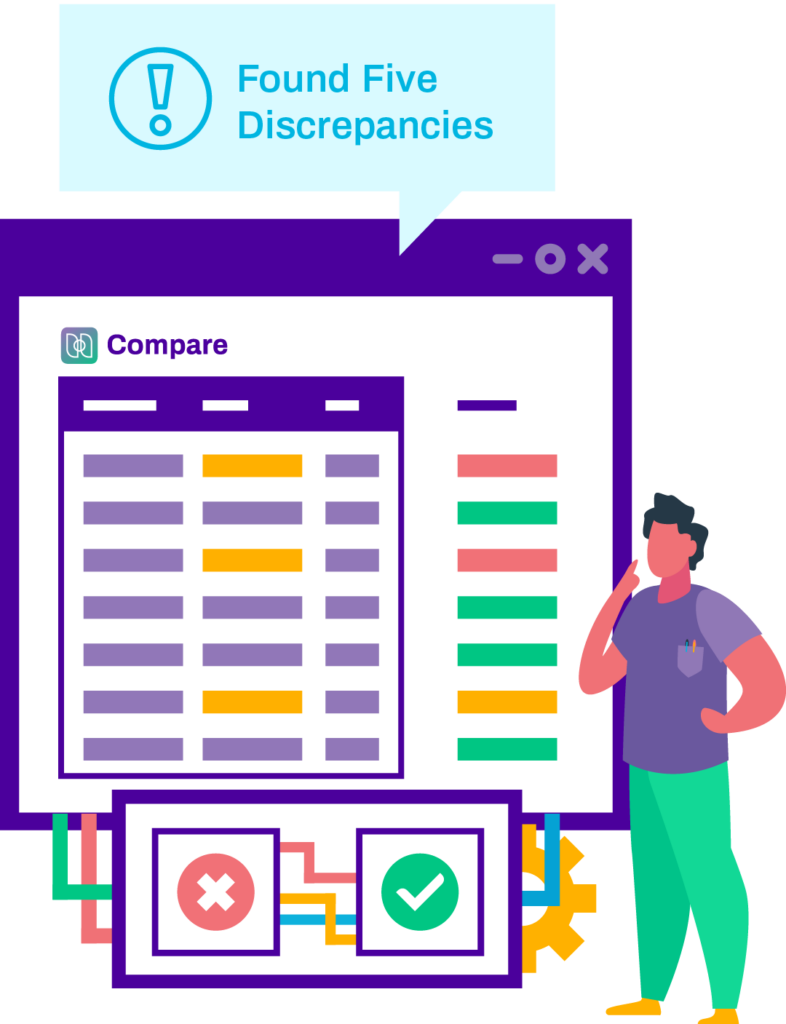 Four Benefits of Healthcare Auditing
1. Identifies Improper Billing Practices
With hundreds of bills traveling in and out of hospitals daily, it's no wonder why billing mistakes tend to happen on a daily basis. Improper billing practices, such as duplicate bills or late bills, decrease compliance and can cause immense fines and reputation loss.
Conducting regular audits can help you find inaccuracy issues such as lack of medical documentation, or the creation of erroneous bills. This can help you in the long term by decreasing risk and raising your hospital's reliability, which results in better profits, competitiveness, and increased revenue flow.
2. Finds Coding Errors Early
Even if a healthcare organization tries its best to develop systematic approaches to avoid claim denials, they can and will still happen. By having a significant number of denials build up over time, a hospital's cash flow can be severely affected, and patient loyalty will be reduced. Effective denials management is crucial to mitigating these issues.
One of the most common causes of healthcare claim denials is incorrect coding, which can be easily identified using medical audits. A sold and thorough auditing process will be able to find discrepancies with out-of-date codes, incorrect inputs, and much more. Auditors can also do all this much faster than people anticipate, which means you and your staff can address errors long before providers realize they exist.
3. Increases Positive Patient Experiences
Having a mismanaged hospital system affects patients in many ways including quality of care and documentation accuracy. Over time, this not only means that hospitals are having to pay out large amounts of money to fix their errors, but that wasted funding could have been used to improve patient treatment.
By implementing an auditing process or hiring an outside investigator, healthcare organizations can get a wider view of how their money is being managed, who is making decisions, and what efficient changes can be made. Having a clearer view of how your profits compared to the amount being spent each year on hospital resources will allow you to budget properly so you can invest in new clinical methods that will keep your patients loyal to your organization.
4. Holds Staff Accountable
Implementing an auditing process will allow you to gather reports and information that will explain which departments are prone to errors, if your staff is being careful with documentation, and whether they are well-versed with the most current code changes or not. Once your healthcare audit gives you this information, you can educate your staff so you can reiterate proper policies and procedures. The goal here is to make your staff more aware that their mistakes can be caught in real-time and increase accountability and ownership, which can lead to saved costs and fewer compliance issues for your organization.
Why Should You Audit Your Organization?
As the landscape of revenue integrity and revenue cycle management continues to evolve, it is considered an essential practice to continue examining and reviewing your hospital's practices and procedures. With so much emphasis being put on price transparency and the integration of more advanced technological systems, hospitals don't have any option but to adhere to new compliance and regulatory rules. To achieve these goals, healthcare organizations have to start making the right changes now, and the perfect way to do that is with healthcare audits.
Investing in a healthcare audit means that you're investing in prevention. By having the necessary software and experts involved in your auditing process, you're eliminating major chances of error and you will be able to significantly reduce your overall costs, which can be put back into your hospital to help patient experience, staff satisfaction, and much more. The benefits your revenue cycle and compliance departments will see will vastly outweigh the cost of hiring an outside firm to complete an audit. Ultimately, pinpointing and resolving habitual and systemic issues will save you time and money, and help you avoid federal or regional reprimands.
Healthcare Audits Frequently Asked Questions
Healthcare auditing is often conducted by third-party experts with experience in medical coding and revenue cycle processes.
1) Identifies improper billing practices, 2) Finds coding errors early, 3) Increases positive patient experiences, 4) Holds staff accountable.
Audits offer insights into resource management, enabling better budgeting for improved clinical methods and patient loyalty.
Audits help prevent errors, reduce costs, improve compliance, and enhance patient experiences, outweighing the cost of hiring an outside firm.